Apple just lost the global smartphone war to Google.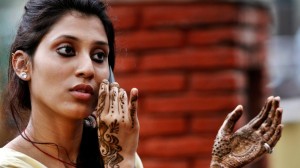 Much has been reported about Apple's biggest volume day to date — selling 4 million iPhone 6's in 24 hours worldwide this past Friday. It's a tremendous achievement for any company.
Less has been said on how Google will sell 2 million smartphones by years end in one country alone — and how it will beat Apple in the process.
Buried under of all of the iPhone 6 Kool-Aid media bacchanalia, Google launched a smartphone that can't be bought in the US, in a country where most Americans can't find on a globe and at a profit margin that made Wall Street boil.
It's the Android One, it was just released in India, and it's proof that Google gets the global smartphone game.
The iPhone 6's markets are saturated; the Android One's markets are not.
Many pundits classify Apple as an "aspirational" brand. Basically, Apple thinks locally and applies it globally. So in their mind what works in Cupertino will also work in Beijing, Mumbai and Mexico City. That technique has worked for Hollywood and luxury brands like Rolex, and Apple has gotten away with it for nearly a decade, until now.
In Apple's primary market—the US, it controls 42% of smartphone sales. That's a problem because the US is saturated with smartphones–roughly 75% of Americans own one. Most developed economies have similar ownership levels.
Instead of adapting to price sensitivities within emerging markets, Apple's iPhone 6 starts at $649 (without contract) and tops out at $949. That's an impossible purchase when the average household income in India is just US$7,700.
While Apple's CEO Tim Cook might claim that China is now its biggest market, the company gave up 30% of its market share in the last year to local competitors Huawei and Xiaomi. (This happened despite blistering iPhone sales.) After flubbing the iPhone 5C launch in China, he still has not set a release date for the 6 and 6 plus—despite it being manufactured there.
In Mexico, its share dropped by 50% in the last 12 months. If fact, Apple has lost ground in almost all major economies in that same time period. Apple has lost its global mojo.
Google's Android One launched in India this week for just $105, and carrier subsidies will drive that price down into the $60s. Amazon.in massive inventory sold out in a matter of hours. Google understands what works in Mountain View might not in Mumbai or Manila.
Curt Prins
I'm a strategist who's passionate about mobile & how it impacts business, nonprofits & emerging markets. My passion for mobile technology does not exceed my pragmatism at a marketer.