Where to start in mobile? Try email.
---
Please Note: Later this week, I'll be presenting "Where to begin in Mobile Marketing" at the Integrated Marketing Summit. (Use IMSAPD8 for a 20% registration discount.)
---
Mobile marketing evolves at an extremely fast pace. When innovators like Starbucks and Virgin Air admit that they can't keep up, how do you remain current with mobile innovations?
Here's a secret: You don't need to.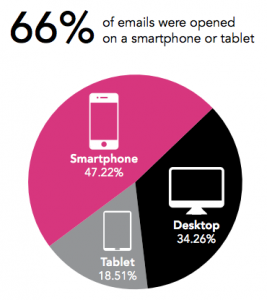 Mobilize what you're already doing. Most of us use email to send out updates, special offers, acknowledgements, and newsletters to remain connected with our customers.
Unfortunately, much of this branded email isn't optimized for mobile clients. Why does this matter?
Email is a central tool for mobile users:
Per ExactTarget, 91% of consumers check their email from a smartphone daily.
According to Nielsen, the average mobile Internet user spends 42% of her time on email.
Movable Ink recently found that 66% of all marketing emails were opened on a mobile device—and much higher with key decision makers and coveted demographics.
Email marketing is often the easiest place to start. Unlike websites which are landmines of internal politics, email is largely controlled by marketing departments.
Despite what others might tell you, optimizing your marketing email is not difficult. Here are six tips on how best to do it:
Format for Mobile First: Let me do you a favor—kill that lengthy email newsletter. When two-thirds of your customers are opening it on mobile devices, keep your messages short, use fewer images and format them for quick loading.
Focus on the Sender, then the Subject Line: Crafting the perfect subject line matters less in mobile. The sender is more prominent on mobile screens than the subject line. Use your brand or a recognizable name. And that subject line? Make sure you cut it down to 4-6 words tops.
Be Flexible in Your Email Design: Use a one column design—no exceptions. The flexibility will come in using responsible email templates. If your provider doesn't offer one and you can't code your own, switch vendors. Messages need to look great on smartphones as well as laptops. And don't forget to include a plain text version of your message.
Nail the "Call-to-Action": Provide a clear and prominent reason for readers to act. Mobile users scan more on smartphones than on desktops. Put call-to-actions twice in your email—within the first screen and at the end of the message. Make sure that all links are 'thumbable.' If you can't click on it easily with your thumb, redesign it using buttons. Steer clear of blocks of text links.
Track, Test & Repeat: Share drafts with your team to ensure that messages look great wherever they appear. Not all email clients will display emails in the same manner. Use your email service provider's analytics tools to see what's popular and what's not. Leverage A/B testing for improvements.
Look Beyond the Email Message: Landing pages need to be mobile friendly. If people are coming from your mobile-optimized email to a web page that isn't, you just killed your conversion rate. Enable social sharing as a bulk of social media usage is now mobile.
When you focus on the marketing assets you already have—like email, incorporating mobile into your marketing mix becomes a pragmatic and easier process.
(If you want to dig deeper on this topic, check out my Mobile Email Makeover presentation.)
Curt Prins
I'm a strategist who's passionate about mobile & how it impacts business, nonprofits & emerging markets. My passion for mobile technology does not exceed my pragmatism at a marketer.